Nothing is too much trouble
We have chosen to use Waverley Forklifts Queensland to supply all of our material handling equipment at our Brendale site. Charlie and Justin are extremely easy to work with, and nothing is too much trouble for them or the other staff at Waverley. We also enjoy fantastic service from Clive and he is always more than happy to work in with our schedule when servicing our fleet. We are very happy with the level of professionalism and customer service they provide to us and we recommend them to any business looking for a forklift hire and rental provider.
Service to be of a consistently high standard
Complete Hire Equipment Pty Ltd have been using WFL Transport for all its Transport needs since early 2009. During this time I have found WFL Transport's service to be of a consistently high standard. In the equipment hire industry we can be very demanding from time to time, WFL Transport meets these demands with professionalism and on time. Their vehicles are kept to a high standard along with their staff who are always ready to assist you. It gives me peace of mind to know that I can rely on WFL Transport for all my transport needs.
A real sense of responsibility
The Forklift Refresher training delivered by WFL Training & Assessment was completed with terrific results and instilled a real sense of responsibility in our forklift drivers

Continually deliver excellent service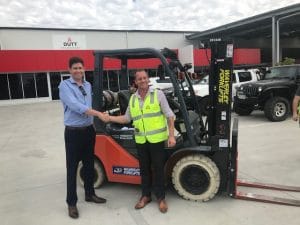 At Dutt Transport, we use Waverley Forklifts for all of our forklift needs across Australia. We began using them for our Queensland operations in 2017 once they opened their branch in Yatala. They provide us with all of our short term forklift rental needs, plus any machinery transport when we require it. Everyone at Dutt Transport knows we can trust the Waverley Forklifts team to continually deliver excellent service.